Services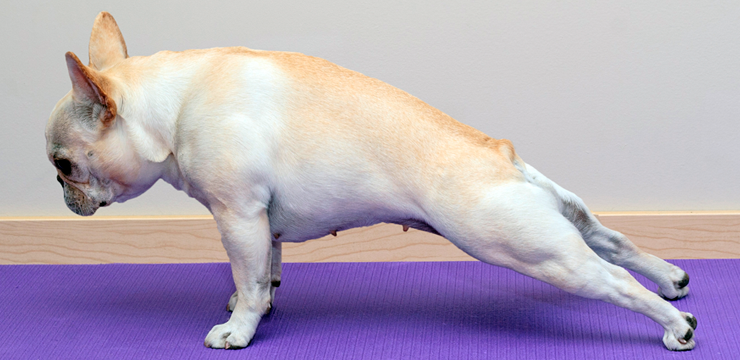 PHYSICAL MEDICINE
Physical medicine is a branch of medicine that treats disease through physical means such as heat, electricity, manipulation of muscles and bones, and more. It can be used as an alternative to surgery or medical therapy, but is most often used alongside those therapies to provide the best outcome for the patient. Typically, physical medicine is used to treat mechanical disorders (ligament tears, back pain, disc disease, nervous system injuries, etc.), but it can be used in conjunction with medical therapy to treat other systemic diseases as well.
At Waterhouse Animal Hospital, physical medicine is practiced through acupuncture, laser therapy, and physical rehabilitation.
Acupuncture
Acupuncture involves placing needles at specific anatomic points located on the body. The needles stimulate the nervous system, and increase blood flow to the acupuncture points resulting in therapeutic effects locally and throughout the body. Generally acupuncture is not painful. Placement of needles may induce a tingling sensation or contraction of the muscle that subsides quickly. Patients do not need to be sedated for acupuncture, and owners are welcome to be present for the treatment sessions.
Acupuncture therapy can be used for a variety of different conditions:
Paralysis of hind limbs
Arthritis
Back pain
Facial nerve paralysis
Dry eye (KCS - Keratoconjunctivitis Sicca)
And much more
Treatment sessions usually last from 20 – 40 minutes, and the number of treatments depends on the condition. Some acute conditions may resolve with three to four sessions, but typically 5 to 10 sessions are needed to treat chronic conditions. Often acupuncture is used in combination with oral pain medications to achieve the best possible pain control for your pet.
Laser
Laser therapy uses specific wavelengths of light to treat a variety of problems. Laser therapy can improve wound healing, provide pain control, increase circulation to an area, and decrease swelling. Laser works by increasing blood flow to the damaged area bringing needed oxygen, nutrients and natural pain killers. The number of treatment sessions depends on the nature of the injury or condition. Typically acute (new) problems require two to five sessions and chronic conditions typically require seven or more sessions. Treatment time typically last from 5 – 15 minutes. A treatment plan is tailored specifically for your pet by one of our doctors, detailing treatment length, frequency and duration. Patients often feel better 12 to 24 hours after the first treatment, but it can take up to three sessions to see improvement.
Laser treatment can help with a variety of problems including:
Arthritis
Hip dysplasia
Post-surgical pain
Neck and back pain
Open wounds
Inflammation
Laser treatment is painless, though the pet may experience some warmth at the treatment site. Laser can be used to treat a pet of any age. Laser therapy is very safe when administered by a veterinarian or trained technician. Laser may also be used in conjunction with oral pain medications to achieve the best possible pain control and healing for your pet.
Physical Rehabilitation
Physical rehabilitation is the use of therapeutic exercise and stretching to enhance the body's natural function and decrease pain after injury, disease, or surgical intervention. Almost all animals can benefit from physical rehabilitation, including animals with arthritis, overweight animals, and geriatric animals. We perform manual work to assess muscle tightness, joint movement, and to isolate painful areas. Based upon the exam, exercises, stretches and lifestyle changes are prescribed to help your pet live its best life. Even for routine checkups, consulting with our rehabilitators for simple changes to make at home can result in improved wellness and prevent injury in the future.
At Waterhouse we have one technician and one veterinarian who have completed coursework in rehabilitation at the University of Tennessee and are currently working to finish their certification in canine rehabilitation.
If your dog has been injured, one of the best ways to improve muscle mass and hasten your pet's recovery is with physical therapy. Our knowledgeable staff can direct you in providing safe, muscle building exercises for your pet. These exercises may range from simple maneuvers to more progressive activities targeting specific muscles or groups of muscles. Whether your pet has had surgery to repair a cruciate ligament, requires passive range of motion after a back injury, or needs specific stretches for muscle sprains and strains, our staff is ready to work with you to develop a physical therapy program for your pet's recovery.